Alright,  you're watching a TV show.  Think fast!  What appears on screen to let you know the show takes place in Miami?  That's right!  Beaches and pool-sides.  Well—Okay, they're probably just showing off the scantily-clad women at those locations, but you get the idea.  When it comes to the city of Miami, beaches and pool-sides are iconic.  —However, think of the last time you went to a busy hotel pool.  Really think about it.  Was it great?  Or was it overrun with fathers chasing screaming children, while moms dunked their diaper wearing babies into the water?  Children are great… when they're your own.  Otherwise, they're kind of unpleasant.  So—How do you avoid this?  How do you escape from the kids and find a great pool where you can actually relax (or party until your head explodes)?  Easy.  Visit a topless one.  It's a simple ironic fact that when it comes to pools, if the breasts come out, the babies go away.  Below, you'll find a list of some of the best pools for grown-ups in Miami.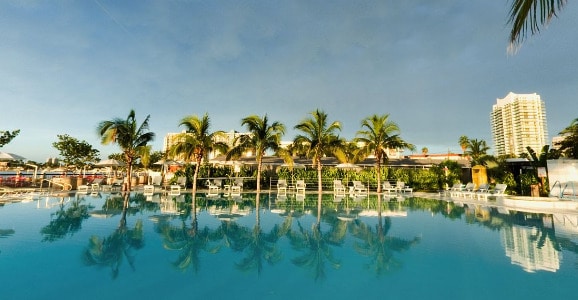 No one under 14 allowed.  Yep, you heard that right.  Under 14 years of age?  You won't even get through the door.  The Standard boasts itself as an "adult playground".  The hotel is most famous for its "Lido Spa", which offers full spa treatments.  Low-key and mellow are what The Standard Miami aims for.  With that in mind, the relaxed pool offers topless sunbathing, and there is a coed sauna.  No one allowed under 14 indeed.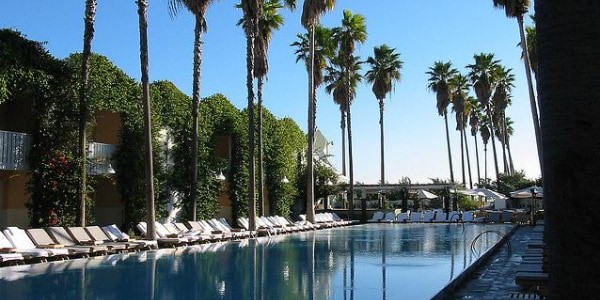 The Delano Hotel, originally built in 1947, is one of the tallest Art-Deco towers in Miami Beach.  It also likes to refer to its pool area as a "Water Salon".  So what makes it a "Water Salon"?  Well, for one, its most shallow area is only eight inches deep, and the hotel takes advantage of this by placing furniture within the pool itself.  Underwater music emanates from all around, as does the sound of a continuous waterfall.  And, of course, topless sunbathing is allowed.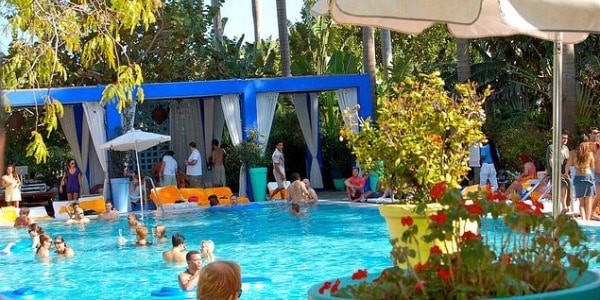 This hotel features two infinity edge pools surrounded by various enormous beds for the most comfortable lounging possible.  As you can assume by this list, both pools allow topless sunbathing.  South Beach itself also links directly up to the pool area.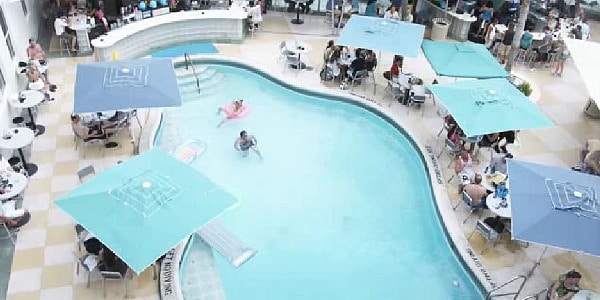 Imagine, if you will, an "MTV" style party.  The kind you see on MTV during the summer while a VJ announces the next music video.  They're over the top, everyone's stupidly beautiful, and you're probably not getting in unless your significant other could work as an underwear model.  That's pretty much the Clevelander, a place not for the young… or old.  Are the pools officially topless?  Nope!  Does that matter?  Nope!  And that alone should tell you what kind of a place this is.  The hotel was completely renovated recently and is considered a must-visit location for anyone checking out the South Beach party scene.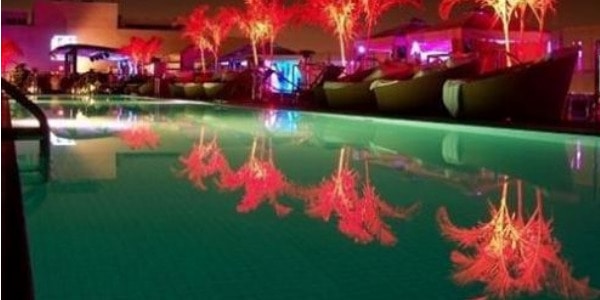 This hotel began as the southern edition of New York's Hotel Gansevoort, only to be acquired by the bank and now run by an entirely separate firm.  So—why is it on this list?  The hotel features two pools.  The main pool, at the base of the hotel, is what one might refer to as "more family friendly"; the kind we're all trying to avoid.  But never fear, the main pool's naughty sister lives up on the roof.  The Gansevoort's rooftop topless pool is the reason to visit.  The view is unparalleled (even if topless sunbathing wasn't allowed).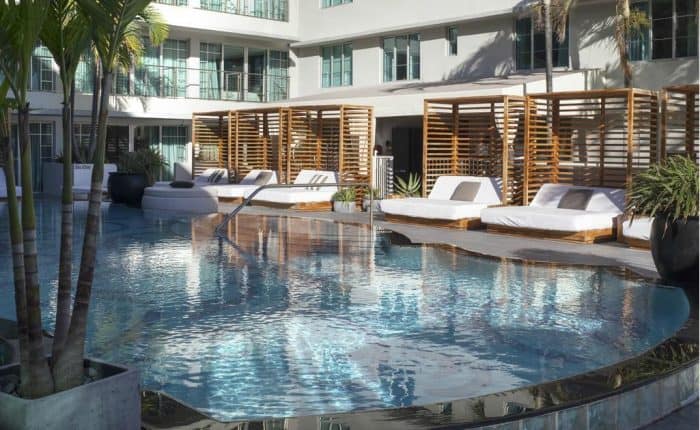 The Hotel Victor is a luxury located right in downtown South Beach with pool that looks out across Ocean Drive onto Miami Beach. Because the pool is elevated on the second floor guests can sunbathe topless without fear of passersby ever know what's going on.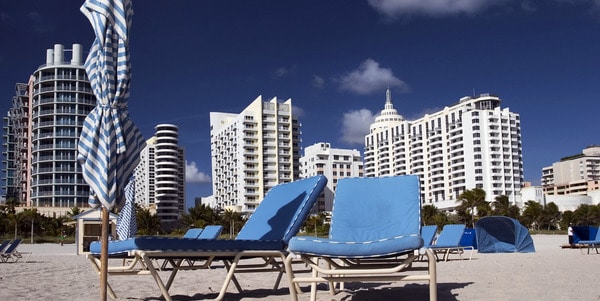 If you're young, you probably think of South Beach as the epitome of Miami, an exotic local filled with parties and beautiful people.  If you go back a couple of decades, you're in the "Miami Vice" era.  The beach is still the same except everybody loves cocaine.  —However, go back even further and you'll discover what South Beach was originally known as:  A run down retirement Mecca, shared with only Cubans and criminals.  It was in the 80's when the beautiful people showed up and Miami Beach became the international entertainment destination we all think of.  So why is South Beach on this list?  Simple.  Pools are great, but they never beat an actual beach, and South Beach is… you guessed it, topless.  That's right, despite being a public beach in the puritan United States, the sheer number of European and Brazilian tourists who visit the area has caused the authorities to tolerate topless sunbathing on Miami's most famous beach.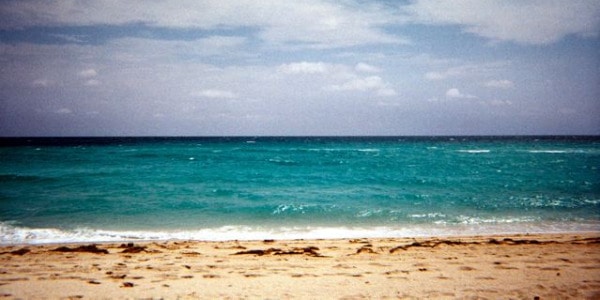 Are you one of those who thinks topless pools are for the timid?  One of those who thinks, "Why go topless when you could go totally nude?"  If you're grinning and nodding your head yes, then Haulover Park is the place for you, Miami's only officially sanctioned nude beach.  The park features a 1.5 mile long stretch of sand.  The northern half mile of that stretch is the nude section (look for the signs).  This beach was originally designated "nude" by a naturist group back in 1991.  While unsanctioned at first, the beach was tolerated by local law enforcement.  In 1993, signs were finally set up and the beach was given the official "okay" by Miami-Dade County.  It's estimated that as much as 63% of the park's total parking revenue (about $800,000) can be directly attributed to the nude beach.  On weekends, total attendance on the beach can very between 7000-8500 people.
Forget the puritan stigmas you've head about topless pools and beaches.  Places such as these are as varied as the titles on a magazine rack.  Sure, some will be a scene straight out of a "National Lampoon" movie, but many, most even, you'll find are some of the most mature, relaxing, "adult in good way" locations you'll find in the city of Miami.
Photo credit: Swingers Information